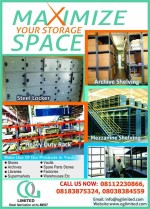 Odianose Globalink Limited is a registered metal racking and shelving Company, based in Lagos, Nigeria.
We have vast knowledge and experience in steel fabrication & design, manufacturing, sale, and services of steel racks and metal shelving systems including mezzanine shelving, steel-mesh caging system, and other storage solutions.
We are a leading provider of industrial storage shelving system, expertly designed and engineered to enable businesses to increase capacity, productivity, and efficiently maximize their available storage space.
OGL versatile racking and shelving system can also be customized to suit your needs. We work with our customers through the complete life cycle of their storage needs, from initial planning, through installation and ongoing service and support.
We are committed to developing storage solutions that help our customers work quickly, efficiently, and maximize their storage space whilst becoming more profitable.
We are though operating from  Lagos Nigeria,  OG Limited can also distribute her products and render her services clients where-ever they choose.
Contact us on (+234) 8023670254, +2348038384559 or send us an email to info@oglimited.com for your nearest OG Limited stock list.
At OG racking and shelving company, our mission is to meet and exceed the expectations of our customers in service quality, affordable pricing, with products of superior design and durability and functionality.